Gabrielle Proust Speaks on Choosing Business Software at NAPO Annual Conference in Las Vegas
Portland, OR – Gabrielle Proust, founder and CEO of Proust Dynamic Organizing, gave a presentation at the National Association of Professional Organizers (NAPO) annual conference in Las Vegas held on Saturday, April 1st. Proust delivered a mini Ted Talk: Ignite on the topic of choosing software for your business and how it can help boost productivity and efficiency.
As a seasoned entrepreneur and software stylist (whisper), Gabrielle Proust is uniquely qualified to advise businesses on the importance of selecting the right software tools to enhance operations. During her presentation, Proust discussed the key factors to consider when choosing software, how to evaluate software options, and the benefits of implementing software in your business.
"I am thrilled to have the opportunity to speak at the NAPO annual conference and share my insights on the importance of software in business operations," said Proust. "By selecting the right software tools, businesses can streamline processes, increase productivity, and ultimately achieve their goals more effectively."
Gabrielle's presentation went on to discuss how software improves efficiency and productivity by streamlining processes, reducing the time and energy needed to complete tasks. She even touched on how company's brand images can improve with an overall better internal processes and customer success.
Alternatively, Gabrielle spoke to the repercussions for companies resistant to onboarding or changing software. The topic further covered how the choice of software can affect a business's ability to remain competitive, as outdated or inadequate software can put a company at a disadvantage compared to its competitors.
The NAPO annual conference is a premier event for professional organizers and productivity experts, offering attendees the chance to learn from industry leaders and network with peers. Proust's speech provided attendees with valuable insights and actionable strategies for selecting and implementing software in their businesses.
For more information on Gabrielle Proust of Proust Dynamic Organizing and to book her for a full presentation on How To Choose The Right Software For Your Business, please visit www.proustdynamicorganizing.com.
Media Contact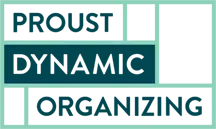 Company Name
Proust Dynamic Organizing
Contact Name
Gabrielle Proust
Phone
(503) 290-6370
Address
7917 SW Pickleweed Lane
City
Tigard
State
Oregon
Postal Code
97224
Country
United States
Website
https://proustdynamicorganizing.com/
COMTEX_428434919/2737/2023-04-05T10:54:18
About Author
Disclaimer: The views, suggestions, and opinions expressed here are the sole responsibility of the experts. No Feature Georgia Heralds was involved in the writing and production of this article.